Just to set the record straight,
there's Clarksville, and then
there's Clarksville.

Historic Clarksville covers about nine blocks east of Mopac between Waterston Avenue, West Lynn Street and 10th Street. Founded in the 1870s by freed slaves, it became Texas' first African-American neighborhood listed on the National Register of Historic Places.

Then there's Clarksville in the modern, larger sense, more accurately known as Old West Austin. Also beginning at Mopac on the west, it stretches to Enfield Road, Lamar Blvd. and Town Lake.

Whatever the boundaries, Old West Austin exemplifies the eclectic, casual style most of the rest of our country considers "typical" Austin. (Several sections of the film "Slacker" appear to have been shot around the area.)

Historically the home to former slaves and former hippies, in Clarksville these days you'll find a country music star's house around the corner from a century-old Victorian-style estate and across the street from some very ... um, interesting ... student-style apartments. Walkers, joggers and bicyclists cover the narrow, tree-shaded roads all hours of the day and evening. Urban bikers have been known to park their hogs in the front yards of their historic-register homes.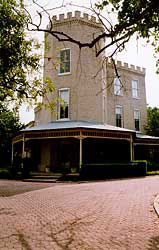 "It's 'old' Austin, and some people want to hang on to it, preserve it, keep living it," says Mike Kight of J.B. Goodwin Realtors.
You might say life in Clarksville is sweet: From Sweetish Hill Bakery on 6th Street to the Sweet Home Baptist Church on the other end of 11th, over to the sweetest gasoline prices west of downtown at the Kwik Mart on 12th and Lamar, there's something to feed nearly every appetite, need, and soul.
But sweet can be dear. Average selling price for homes is more than $150,000 -- though some list as high as the upper six figures -- and they take an average of 45 days to sell. (In comparison, greater Austin's average days-on-market is 70.) Realtor Mike Kight notes that "houses hold their value, and properties don't turn often." Selling price tends to differ from original list price by less than five percent. In early July, Clarksville's least expensive listing was a three-bedroom, one-bath, 1940s-vintage cottage overlooking scenic Mopac. List price: $133,000.
Still, buyers looking for a hilly, historic, close-in neighborhood with a range of people, businesses and amenities will find it all in Old West Austin. According to Jim Couser, zoning chair of the Old West Austin Neighborhood Association, greater Clarksville has the widest diversity of incomes and is Austin's densest urban area of single-family homes.
"It's simple ... lots of people want to live here," he says. "In the early- to mid-'80s, speculators started buying up the older homes, and residents believed single-family would give way to condominiums. But it just didn't happen. Lately we're seeing a lot of the old houses restored and reverted to single-family homes from rental/commercial."
Buyers should understand that remodeling restrictions exist to protect the generous collection of landmark homes. Traffic continues to increase on boundary streets, slowly finding its way through Clarksville's narrow avenues, but the neighborhood association is working with city planners to find solutions.
OK, you can find zoning and traffic concerns in most of Austin. But you can only find Clarksville between Mopac, Enfield, Lamar and Town Lake.
Or is it Mopac, Waterston, West Lynn and 10th?
Heck, just find it. It's worth the visit, and you just might want to stay awhile.
RANDOM FACTOIDS
Hangouts: Austin Java Company, Nau's Pharmacy fountain, and the West Pecan Street enclave, including Sweetish Hill, Z'Tejas, Cafe Josie, etc.
Cool landmarks: Treaty Oak, the Castle, Sweet Home Baptist Church
Gourmet grocery: Fresh Plus / Cook's Night Out
Fine dinin': Jeffrey's, Castle Hill, El Rinconcito, West Lynn Cafe
Unheralded treasure: Breakfast tacos from Naomi's, Atmosphere at G/M Steakhouse
Typical celebrity denizen: former Gov. Ann Richards